Fishing Report For May 2017
May 2017 Fish Report
The weather in May was not as good as April and we had to cancel or reschedule a bunch of charters. Thanks everyone for understanding the potential danger that you faced if we ran the trip. Passenger and crew safety is number one in my book.
The rock fishing continued to be very productive for the majority of our anglers that got out. They caught an assortment of quality Rockfish, Lingcod and Boccaccio.
The Yellowtail fishing was fairly productive for a few or our charters as they continue to migrate in larger numbers into our local waters. Many more Yellowtail have been seen than caught. We also caught a trophy Thresher Shark this month weighing 165lbs. Amazing powerful fish and very tasty to eat.
Our offshore season is about to kick off so "stand by" for some exciting news next month on how we did and what we caught.
Thanks again to everyone for choosing Coletta Sport Fishing for your fishing adventure.
4 Trophy Yellowtail!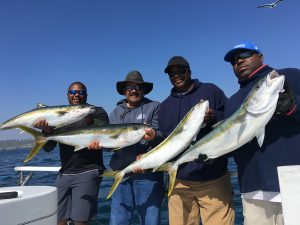 Great Group Of Guys!